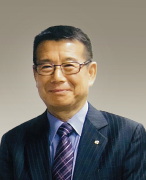 We would like to extend our deepest sympathies to all the people around the world who have been affected by the COVID-19 pandemic. At present, it appears that a faint ray of light is now visible due to the efforts underway around the world and the start of vaccination programs. I pray that those efforts will bear fruit and that calm will be restored as soon as possible.

The International Research Society of the Sapporo Conference for Palliative and Supportive Care in Cancer (IRS-SCPSC) was officially launched as an international research society in October 2019 after the finalization of various procedures including approval by the SCPSC Board of Directors. We have stated that the founding purpose of the Society is to pursue palliative care as a science based on the philosophy of "palliative care as a human right (2013)" as stated in the Prague Charter. Science consists of both natural science and humanities (humanities = sociology that studies human products and philosophy that studies human nature). In the research of palliative cancer care, in particular, the development of research that harmonizes both domains is indispensable.
In recent years, the integration of clinical oncology and palliative care has become generally recognized among cancer care professionals around the world. Our Society seeks to further develop this aim, emphasizing science and advocating the establishment of a palliative oncology that includes psycho-oncology. Geographically speaking, the Society is centered in Asia, but its ideas are oriented beyond Asia to the rest of the world. This can be seen, I feel, from the program contents archived on the Society's website (http://www.sapporoconference.com/). In addition, the British Medical Journal Supportive and Palliative Care is now the official journal of this Society, which I think is a further proof that the Society is open to the entire world. The Society is working to develop palliative cancer care together with all people involved in cancer medicine around the world, beyond problems of geopolitics.

The 3rd Sapporo Conference for Palliative and Supportive Care in Cancer (SCPSC), which was scheduled for 2020, will be the first academic meeting of the Society. Due to the COVID-19 pandemic, however, it has once again been postponed and will now be held as a joint conference with the 4th SCPSC over 3 days (21-23 July) in 2022. The joint conference is currently being planned through the efforts of the 3rd Conference Chairman Takeshi Terui, the 4th Conference Chairman Satoshi Miyake, and the Executive Committee Chairman Toshiro Kusakabe. We look forward to the participation of everyone involved in palliative care, not just for cancer but for other diseases, as well as the many people involved in clinical oncology.

Kunihiko Ishitani
President of The International Research Society of the SCPSC
President, Higashi Sapporo Hospital
Associate Editor, BMJ Supportive & Palliative Care
March 30th, 2021